Look out! Fluffy Bird At Work
Welcome to Algy's very own web site, which he made for all his friends and especially for the young readers of his books. He hopes you will enjoy it!
Algy's Online Shop
Algy is very sorry, but his online shop is temporarily closed for refurbishment. It will reopen in mid-October 2022, so please check back soon. In the meantime you can contact Algy and his assistants using the contact form on this web site.
When Algy's shop reopens you will be able to buy signed copies of Algy's books with a personal dedication in your own words, and greetings cards and gifts featuring illustrations from Algy's books.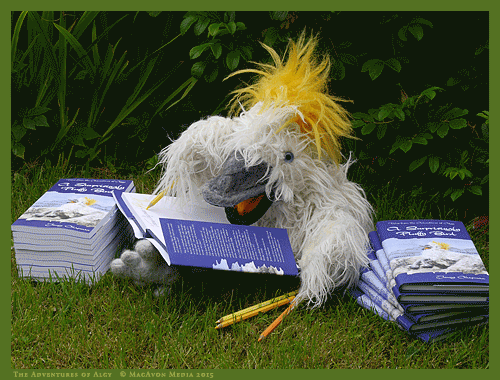 Algy Signing Books
You can also preview the first chapter of each book on this site, read the reviews, and look at slideshows of the illustrations. Find out more about Algy's books now!
Algy's Playground Art Gallery
Upload your own paintings and drawings to Algy's Playground Art Gallery. Algy loves to see all your pictures and he is sure that everyone else will too!
Go to Algy's Playground Art Gallery
Algy just loves this fantastic portrait by a young Highland reader: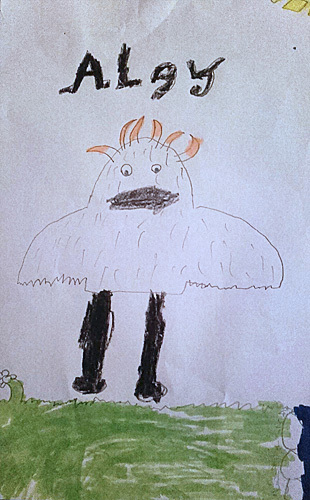 Algy by Logan
Write in Algy's Visitors Book
Have you seen Algy's Visitors Book? Algy just loves to read your comments, and always writes a personal reply. Read what some of Algy's other friends have written in the Visitors Book, and add your own message or comment. Look at Algy's Visitors' Book
Algy's Writing Playground for Children
NEW! Send Algy your own stories and poems inspired by Algy's adventures, and share them on this site for everyone to read, all around the world!
Go to Algy's Writing Playground for Children