The Tree With A Golden Heart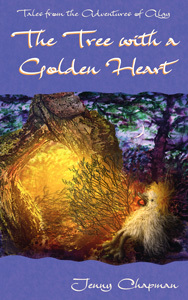 The exciting second book in the series of
Tales from the Adventures of Algy
, featuring Algy, the most unusual and charming fluffy bird you could ever hope to meet!
When his special friend falls ill, Algy bravely undertakes a daring and magical adventure in search of the peculiar medicine that may help to cure his friend. As always, Algy encounters many friendly, helpful, and funny creatures, as well as some fearsome beasts, and his adventure is full of strange and exciting surprises, sprinkled with a handful of unusual poems and rhymes. Despite the very real dangers which Algy encounters during his thrilling adventure, the story of course has a heartwarmingly happy ending.
This tale is drawn from the real birds and animals and the beautiful scenery of the wild west coast of the Scottish Highlands.
Ideal for children aged 8 to 11 and grown-ups of all ages who are still young at heart :)
This book was revised in 2017 and published in a 2nd edition.
Buy a Signed Book
You can buy signed copies of all Algy's books, complete with your own personal dedications, right here on this site, direct from the author, Jenny Chapman.
Visit Algy's Bookshop now!
Look at a slide show of the colour illustrations from The Tree with a Golden Heart .
Written and illustrated by Jenny Chapman, this chapter book has 174 pages with a colour illustration at the start of each chapter. It is available in the following editions:
Paperback (2nd edition) ISBN 978-1-910637-08-1
Hardback (2nd edition) cloth bound with dust jacket ISBN 978-1-910637-09-8
Kindle ebook (2nd edition) ASIN B0777CWHGZ